Anston – A Community Rich In History
Anyone driving through the local countryside would scarcely notice the beginning and the end to the hamlet of Anston. This quiet community lies on County Trunk C in SE Pittsfield Township. Like most other small communities, a closer look into the past yields a very lively and colorful history.
The early days of Anston were extremely rural. The first settler was Fred Strechenbach who purchased land in present day Anston in 1852. Fred had one son, William. William Streckenback took over the family farm and is responsible for the first road and school in area. In addition, William Streckenback served as Pittsfield town treasurer for 20 years.
Allan T. Buckman also owned a farm in Anston. He purchased property in 1853. The first Pittsfield town meeting was held at the Buckman house in an upstairs room. A sum of $2.00 for the use of Mr. Buckman's house was allowed for each meeting. Old-timers often referred to this house as the "cradle" of Pittsfield. This structure was dismantled in 1921.
Mr. Buckman was a member of the County Board of Supervisors for several years, a Justice of the Peace for 20 years, and a member of the Board of Canvassers for 17 years. The flag on the courthouse in Green Bay was at half-mast the day of his funeral.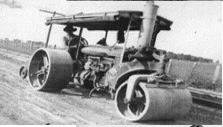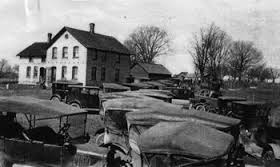 One of the earliest stories of Anston pertains to an unusual pet, which William Streckenbach housed on his farm. In the early 1880′s Streckenbach captured a bear cub, which was less than a year old. He named the bear Jeff and kept him chained to a post. Jeff broke free on several occasions but could always be coaxed back with a pan of food. In the summer of 1882, Jeff broke free for his final time and charged Mrs. Streckback's sister, who happened to be making her way from the garden with a dish of berries. Luckily, she made it to the house but watched helplessly as the bear chased down and killed a calf in a nearby pasture. William Streckenbach, who was away, at the time of the incident, later shot the bear. He then sold the hide to a butcher.
Other forms of wildlife were also plentiful in the area. William Streckenbach's son Cliff told a story of tracking a wolf on the hill just south of Anston. He realized, after the examination of the tracks for a period of time, that the wolf was stalking him. Fortunately, he was able to escape without mishap.
Things changed in a big way during the year of 1906. The Chicago and Northwestern Railroad came through and set up a depot. Originally, the town was to be called Buckman in the honor of the Buckman families of Pittsfield. The railroad however had a station by the same name and therefore chose the Anston name instead. The origins and reasoning behind the name of the Anston are unknown.
After the founding, of the railroad depot Anston's golden age began. Within a short period of time the following establishments could be found. Moving from west to east the town was laid out accordingly: a kraut factory, a beet dump, the pickle factory, lumber yard, potato warehouse, a feed warehouse/hardware store/office, grist mill, cement shed, coal shed, stockyard, blacksmith shop, a school, general store and a cheese factory. Located on the opposite side of the railroad tracks were, by the depot, was a section house and a tool house.
Anston's kraut factory was owned by the Van Ern family. It operated for only a few years and was acquired by Lois Bandow who then converted the place into a dance hall/roller rink. Later the structure was purchased by Evert Severson who used it to raise turkeys.
The beet dump was the only loading station. Area farmers would sell their sugar beets here and have them shipped to the Menominee Sugar Beet Company of Green Bay. This was a huge operation which, at it's peak, employed some 425 workers in Green Bay.
Arthur Bond founded the pickle factory. It was a branch of the Oconto plant which was owned by his father. The Bond Pickle Company in Oconto is still in operation today.
The lumber yard was only in existence for a short period of time. It was operated by Edward Kubiak of Pulaski and employed Les Buckman who ran the day-to-day operations.
A.L. Thomas founded the potato warehouse and employed Bud Bandow. Bandow later expanded the business and built the feed warehouse/hardware store/office grist mill, cement shed and coal shed. This business was later sold into Evert Severson who in turn sold it to the Pulaski Chase Co-op.
Anston's stockyard was owned by the railroad and used by local cattle-jocks. Cattle were most often shipped but horses came through as well. Broncos were brought in from out west came through as well. Broncos were brought in from out west to be purchased and used by area farmers.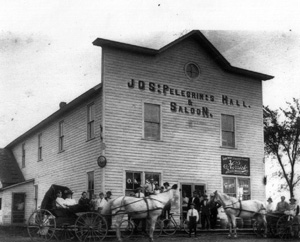 The blacksmith shop was owned and ran by J.C. Briggs. When the demand for the blacksmiths had declined, he changed focus to pallet building. This business was purchased by Delmar LaCount and moved across the road. The building eventually burned down and was rebuilt as the Better Built Company.
Anston's first school house was built in 1856 and was made of logs. In 1872, a red school house was constructed. In 1915, a more modern school was built. The old red school house was then moved to the railroad tracks and became the potato warehouse. The Anston School District, which is now defunct, was absorbed into the Pulaski School District. Anston's school building was burned down in the late 1990′s. D.D. Clark built the general store. The business changed hands several times, ownership transferred from Wesloski, Drella, and later to Duroscher. The building eventually burned down.
Frank Lements founded the cheese factory. It was later owned by Ernest Magely. Like many small cheese factories in the state, it could not compete with larger factories and no longer exists. Finally, on the eastern outskirts of town was a baseball diamond. Anston would host teams from Duck Creek, Krakow, and Sobieski. Ice Cream and soda were served in the octagon shaped stands. The baseball field is now gone.
Significant events have occurred within the community of Anston throughout the years. In the spring, of 1980, Vice President Walter Mondale made a campaign appearance at the John And Helen Tauscher farm. State Representative Cletus Vanderperren arranged the visit. John Tauscher remembers it as a tremendous experience for his family. Prior to the stop, secret agents inspected his home. A special telephone line was even installed to Washington D.C in the event the vice president needed to be sworn in. The entire event went off without a hitch and a 30-minute conference was held in the Tauscher's living room. The presidential motorcade and armed guard stationed on top of the Tauscher's house were indicative of the important event unfolding in Anston.
On a lighter note, Anston is also known for some other important visitors. Rumor has it, that the Oak Ridge Boys stopped in at Irene's Linger Londer Tavern on the western outskirts of town. Irene's operated at the center of County Trunk U and County Trunk C. This was originally the route of Highway 32. Proprietor Irene Ballas died on November 22, 1987 and the tavern burned a few years after her passing.
Today, none of the businesses mentioned earlier are in operation. The railroad pulled out in the early 1990′s and the right-of-way has since been converted into the Mountain Bay Trail. Anston's lone business is Axi-Line. The building is owned by Thomas Weid and leased to Axi Line. The company is a manufacturer of equipment used to test transmissions. Prior Axi Line, the site housed a white elephant discount store. Before that it operated as Better Built, a pallet company.
Anston's other main business is the Tauscher dairy farm. Tauscher's own approximately 750 acres, rent out about 300 more and own 500 Holsteins.
Industry has slowed considerably over the years. Today, Anston is primarily a residential community with about 70 inhabitants. A new housing development on the east side of town will add further to the population. Anston's past as a center of commerce is looked upon fondly and with pride by area locals.
History of Pittsfield Town Hall (aka Kunesh School)
At the last Town of Pittsfield annual meeting, held on April 17th – 2018, a vote was conducted to construct a new community center. A hand vote was performed and the motion was passed unanimously. No votes cast in opposition. Next, a motion was made to borrow up to 1.8 million dollars, over 20 years, for construction of a new community center athletic field, and a parking lot. These improvements will be made at the Pittsfield Community Park which is located just west of Anston. A hand vote was conducted. Motion carried. One vote was cast in opposition. Construction of the new community center is slated to begin in 2019.
Reasons for a new Pittsfield community center were discussed in detail, at previous meetings, before the vote was cast. The current town hall building is small and has limited storage space. Also, the septic system is not up to code and needs to be replaced. Rather than invest town money into the existing town hall site it was decided a new community center located in the Town Park would be a more prudent use of funds and will better meet the future needs of a growing community.
Thus begins a new chapter in the history of the Town of Pittsfield. No plans have been made yet as what to do with the current Pittsfield Town Hall located in section 21 on the corner of Kunesh North Road and Town Hall Drive. With the upcoming change at hand: now is a good time to reflect back on the old town hall building and delve into its past.
Early records indicate a log school house was constructed on the site of the present day Pittsfield town hall in 1874. The building had wooden blinds and whitewashed walls. The new school was originally named: District # 4 – Pittsfield. Early Pittsfield historian, Lizzie Johnstone described this early school as a, "Temple of Learning". In 1885 this log school building was replaced by a new brick building.
Around 1911 an addition was added on to the original brick building which doubled its size. According to Mrs. Johnstone, "It became one of the first and best graded schools in the County". Over time the site was referred to simply as the Kunesh School.
Some of the teachers from the early days of this school were: Minnie Burdon, Anne Viert, William J. Brown, Caroline Buckman, William Ross, Michael Ryan, Lizzie Dewane, Minnie Hanson,]. Elmore Hanson, Katherine Meagher; Peter Van Roy, Grace Johnson, Lid Pariezak, Estella FitzPatrick, Marie MeCarthy, and Isabel Burkhardt.
A list of teachers from latter part of the school's history includes: Evelyn Yager -Heuser, Mildred Auer, Esther Wegner, Dorothy Virtues, Beatrice Elkey Janet Johnson-Banaszynski, Mae Tuttle, Helen Athey; Chariotte Olson, Dorothy Larscheid-Umentum, Edith Giese, Marian Sheedy, and Doris Malcheski.
Former Kunesh School student, Mary Stender-Pasch reflected back fondly of her school years. She attended Kunesh School grades 1 – 8 between the years 1941 – 1949. Mary stated, "The school had two big rooms. One room was used for grades 1 – 4 and the other grades 5 – 8. Each room had its own instructor so there were always two teacher s at the school. Both rooms were heated with coal and had their own round stoves located in a corner. There were also big china drinking fountains located in each room as well. Certain children were given tasks such as hauling in coal and drinking water, cleaning blackboards; and putting up and taking own the outdoor flag". .Mary went on to say, "Sometimes my teacher, Mrs. Sheedy, would pay kids out of her own pocket to help sweep up the floors after class". All children got to the Kunesh School by walking. A few ingenious kids could catch a ride on a milk truck or if it was raining perhaps hitch an automobile ride with a neighbor. Interestingly, Mary recalled 8th grade graduation took place off-site. "Our school plus the neighboring schools of Mill Center and Anston would meet in Green Bay at the Bay Theater. There, one large 8th grade graduation ceremony was held for all grad e schools located in Brown County". Mary went on to say most of her graduating classmates went on to high school. "In my family one half of us went to Green Bay West High School while the other half attended Pulaski High School."
Doris Malcheski taught at Kunesh School between the years 1951 – 1953. She remembers the quaintness of teaching for such a small school. "As a teacher I was invited to School Board meetings which were held in the homes of board members, Bob Pasch and Bill Ziebarth. Also, I remember the Kunesh School Board Treasurer, Leon Santy; personally handing me my pay check". These simple times were also reflected in the way teachers interacted with their students. Doris recalled a situation where she pulled one of her students from a morning softball game. "Tony Baranczyk was out of school a few days helping with field work on his family farm. He needed to finish up his Mother's Day art project so I called him in the school building to complete the gift before morning classes started. The rest of the students were upset because I took Tony out of the game, so I filled in for him at third base."
In the fall of 1962 the Kunesh School was closed because of small enrollment. Student s were sent to the Pulaski Village grade school and then attended Lannoye Grade School once it was completed. The building served the local community as a school for 77 years. Most school buildings ceased their functional life at this time; however, the Kunesh School got a second reprieve.
In 1963 the Township of Pittsfield acquired the property.
The Pittsfield Town Hall, at that time, was located on County Trunk U in Kunesh, and was considered too small. It was sold to Fletcher King in 1963. This building, at 5170 County Trunk U, now houses the Green Bay and Northside Homing Pigeon Club. Pittsfield then moved its offices to the former Kunesh School site and repurposed the building as a town hall.
Thus began the structure's second life as the Pittsfield Town Hall. Lee Streckenbach who served as Pittsfield Town Chairman from 1978 – 1994 thought the former Kunesh School made for a great community space. "We made improvements to the building such as straightening the hardwood floors, fixing the walls, and adding indoor bathrooms. The two separate rooms allowed us to hold two functions at the same time. It was a very spacious building in its day". Like other town halls, residents of Pittsfield met there for Town meetings, elections, and to hold small family events such as graduation parties or birthday parties. Lee went on to say, "The building served it; purpose well; but I can see, as the community grows, the need to move on."
With the completion of the new Pittsfield Community Center, in 2019, the building will cease operations as a town hall after 56 years of service. Between being a school and a town hall the building has been used for 133 years total. The future of the building will be shortly decided by the Pittsfield Town Board , It will be interesting to see if the structure can somehow get a third life going forward.
Pittsfield Town Hall Story References
1. Town of Pittsfield April 17, 2018 Annual Meeting Minutes
2. Town of Pittsfield March 15, 2018 Public Meeting YouTube
3. A Story of Pittsfield and Suamico by Lizzie Johnstone 1928.
4. Green Bay Press Gazette notice, Tuesday July 11, 1911
5. A Story of Pittsfield and Suamico by Lizzie R, Johnstone 1928,
6. Personal interview with Mary Stender Pasch. October 12th, 2018,
7. Personal interview with Mary Stender Pasch, October 12th, 2018,
8. Personal interview with Doris Malcheski. October 12th, 20 18,
9. Green Bay Press Gazette article, Tuesday, August 14th 1962,
10. Green Bay Press Gazette notice, May 3rd, 1963,
11. Personal interview with Mary Stender-Pasch October 12th, 2018.
12. Personal interview with Lee Streckenbach. October 12th, 20 18,